Timeline
---
2021
Drawing Portraits Workshop with Katya Mortensen
29 May 2021 | Photo by Katya Mortensen
Exhibition with Australian Scroll Saw Network
15-16 May 2021 | Photo by Katya Mortensen
Mark Making in Pastel by Amanda Zurek
1 May 2021 | Photo by Helen De Jonge
Life Drawing 6th March 2021
6 March 2021 | Photo by Katya Mortensen
Goulburn Show Participation
4 March 2021 | Photo by Alex Mortensen
Meeting Day
11 February 2021 | Photo by Katya Mortensen
Life Drawing 30th January
30 January 2021 | Photo by Alex Mortensen
2020
Painting Day
10 December 2020 | Photo by Alex Mortensen
Christmas Lunch
05 December 2020
Life Drawing
5 December 2020 | Photo by Katya Mortensen
BBQ Fund Raiser and Membership Drive
21 November 2020 | Photo by Sue Maas
Drawing Portraits Workshop with Katerina Mortensen
14 November 2020 | Photo by Katya Mortensen
Signs Up
29 October 2020 | Posted by Katya Mortensen
Pastel Workshop with Grace Paleg
24 October 2020 | Posted by Alex Mortensen
Staying safe at the AGM
8 August 2020 | Posted by Alex Mortensen
June meeting after self isolation period
26 June 2020 | Posted by Katya Mortensen
Self Isolating in action
23 March 2020 | Posted by Alex Mortensen
Leaping with Life Drawing
29 February 2020 | Posted by Alex Mortensen
Thursday Painting Day
27 February 2020 | Posted by Katya Mortensen
Life Drawing Night Session
13 February 2020 | Posted by Alex Mortensen
Inaugural Open Day
8 February 2020 | Posted by Alex Mortensen
Generous Donation by Aina Atkins
February 2020 | Posted by Alex Mortensen
Thursday Painting Day
February 2020 | Posted by Katya Mortensen
---
2019
Christmas Lunch 2019
7 December 2019 | Posted by Katya Mortensen
Workshop: Acrylics Landscapes with Janette McGuffog
November 2019 | Posted by Alex Mortensen
GWC Annual Art Prize 2019
11 October 2019 | Posted by Alex Mortensen
GDAS in Lilac FestivalParade 2019
6 October 2019 | Posted by Alex Mortensen
Thursday Painting Days Resumed
19 September 2019 | Posted by Katya Mortensen
2019 AGM & August Meeting
17 August 2019 | Posted by Katya Mortensen
July Meeting
29 July 2019 | Posted by Katya Mortensen
The winner of the People's Choice Award at Taralga Show
10 June 2019 | Posted by Katya Mortensen
First Meeting at GDAS Art Studio
10 May 2019 | Posted by Katya Mortensen
Chan's Watercolour Workshop
7 April 2019 | Posted by Lesley Whitten
Our New Home
4 April 2019 | Posted by Alex Mortensen
Rose Festival Exhibition 2019
10-11 March 2019 | Posted by Ekaterina Mortensen
ASOC Summer School
7-11 January 2019 | Posted by Ekaterina Mortensen
2018
Annual Art Prize 2018 Exhibition
11 October 2018 | Posted by Alex Mortensen
Life Drawing with Alex Mortensen
6 October 2018 | Posted by Alex Mortensen
Life Drawing with Alex Mortensen
4 August 2018 | Posted by Alex Mortensen
Watercolour with Isla Patterson
28 July 2018 | Posted by Alex Mortensen
Pastel Workshop with Tracey Millar
23 June 2018 | Posted by Alex Mortensen
GDAS Moving Day
26 May 2018 | Posted by Alex Mortensen
Acrylic Workshop with Marion Schumacher
19 May 2018 | Posted by Trish McNamara
Life Drawing 1st Saturday in May
6 May 2018 | Posted by Alex Mortensen
The Goulburn Regional Gallery Art Award 2018
20 April 2018 | Posted by Alex Mortensen
Joint Exhibition by GDAS members
March - April 2018 | Posted by Katya Mortensen
Watercolour with Chan Dissanyake
24-25 March 2018 | Posted by Sue Maas
Rose Festival exhibition 2018
10-11 March 2018 | Posted by Katya Mortensen
Vale - John Saxton
7 February 2018 | Posted by Alex & Katya Mortensen
---
2017
Helen Cottle's Watercolour Workshop
21-22 October 2017 | Posted by Sue Maas
"Feathers and Flotsam" Exhibition
29 October - 24 November 2017 | Posted by Alex Mortensen
Annual Art Prize Exhibition 2017
13-15 October 2017 | Posted by Katya Mortensen
Watercolour Farmyard Animals Workshop with Nell Anderson
September 2017 | Post by Helen De Jonge
Watercolour Workshop with Helen DeJonge
19 August 2017 | Photo by Helen DeJonge, Post by Ekaterina Mortensen
---
Sukhvinder Saggu | Solo exhibition "Visual Feast" at the Goulburn Club
11 August 2017 | Photo By Ron McLachlan, Post By Alex Mortensen
---
AGM 2017
8 July 2017 | Photo By Katya Mortensen
---
The 1st meeting in The Art Room
8 June 2017 | Photo By Katya Mortensen
---
Aina Atkins | Watercolour Workshop
13 May 2017 | By Alex Mortensen - GDAS editor
---
A Moving Day | Our New Room at the Angels For The Forgotten, Sloane St, Goulburn
11 May 2017 | By Alex Mortensen - GDAS editor
---
Chan Dissanayake | Watercolour Workshop
1-2 April 2017 | By Alex Mortensen - GDAS editor
---
Aina Atkins – an International Art Tutor
February 2017 | By Alex Mortensen - GDAS editor
---
Watercolour workshop with Chan Dissanayake
13-14 August 2016 | By Katya Mortensen
---
Rhonda Garner: a member with Unusual Skills
September 2016 | By Alex Mortensen
---
... Events 1904-2016 to be added here...
---
1904
First Annual Exhibition
Goulburn Evening Penny Post (NSW : 1881 - 1940), Saturday 19 November 1904, page 3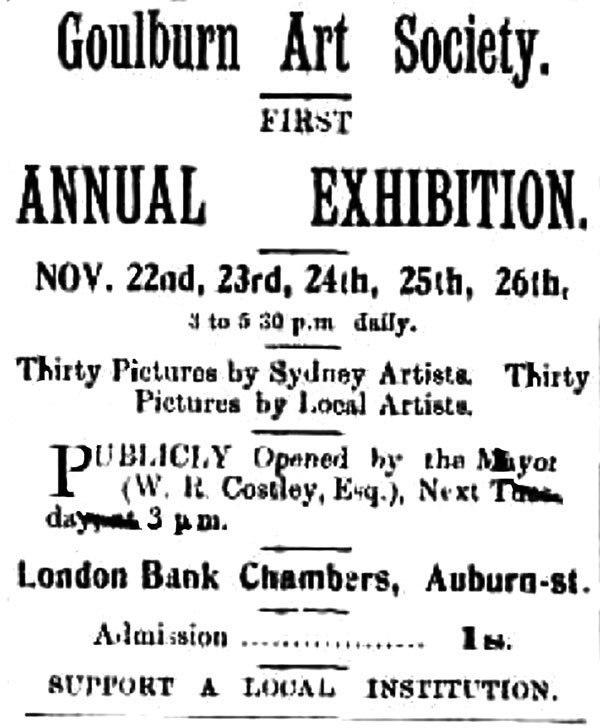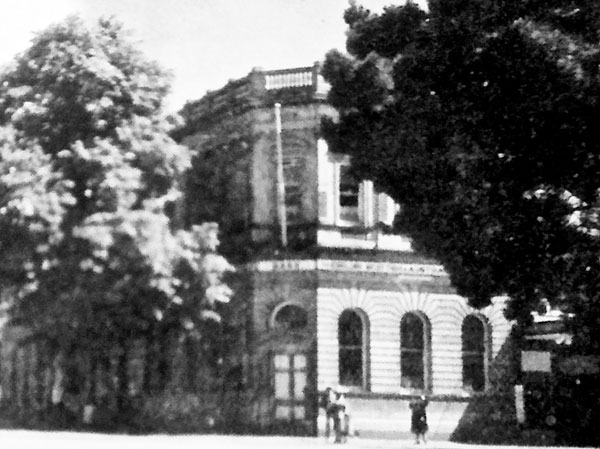 "First Annual Exhibition, November 22-26, 3-5.30pm daily. Thirty pictures by Sydney artists, thirty pictures by local artists. Publicly opened by the Mayor (W. R. Costley Esq.) London Bank Chambers, Auburn St."
Source: www.trove.nla.gov.au
Image source: Ziegler, O.I. 1946. Goulburn - Queen City of South.
First Meeting place of Art Society of Goulburn
Goulburn Herald Friday 3 June 1904, p2 | Photo: Pinterest by Sammy Leigh Interior Design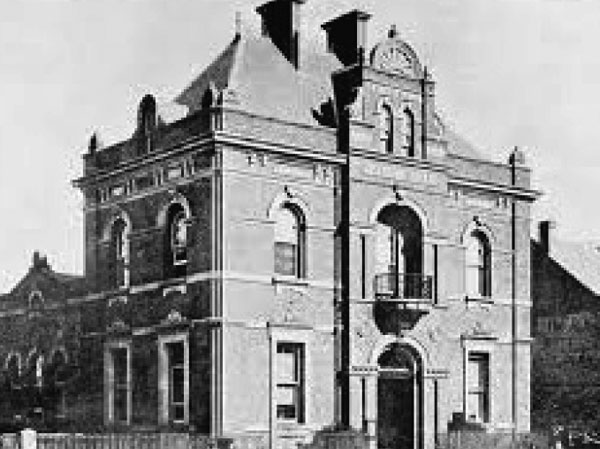 "A meeting of persons favourable to the formation of an art society in Goulburn was held at the Town Hall yesterday afternoon. The mayor presided and there were present about 20 persons. The chairman, after explaining the objects of the meeting, called on Archdeacon Bartlett to move the first resolution. Archdeacon Bartlett said he came there to see whether he could do anything in the way of a Phillistine, and he hoped they would not consider it cheek on his part as he could not paint a haystack to save his life. But he could tell a good picture from a bad one, and he hoped he would be excused for what he was going to say now regarding the pictures he had seen in Goulburn..."
Full text at www.trove.nla.gov.au
---
1897
First Art Classes in Islington House
Photo from Photograph Town and Country Journal, 1899 courtesy of Goulburn Historic Society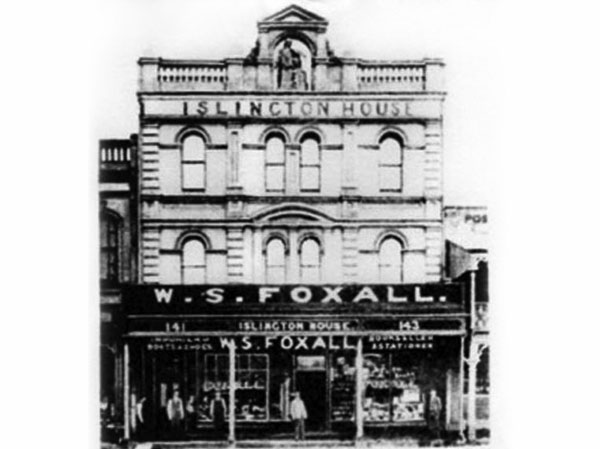 "First organised art classes in Goulburn were commenced above Foxall's Music Warehouse in Auburn St, opposite Belmore Park in 1897 - the beginnings of forming our Art Society in Goulburn." Newsletter April 2019